The Ultimate MacBook+PC Monitor Showdown
· 3 min read

Like many folks finding their way through the COVID-19 pandemic, I've recently accepted a job working permanently remote. So for the foreseeable future my workstation will be pulling double-duty for macOS-based software development with a MacBook Pro and Windows-based gaming on a PC.
Modern monitors come with a lot of interesting features. Did you know you can connect a MacBook to a monitor using a single USB-C cable and transmit USB, power, audio and video?
Unfortunately, it's not as simple as knowing whether a monitor supports USB-C. Many monitors support USB-C but don't have any sort of way to pipe the audio out from the monitor (for example, to a sound bar). And some monitors have USB-C and audio out, but only provide 15W of power.
With enough features, the monitor effectively acts as a KVM+audio, like so: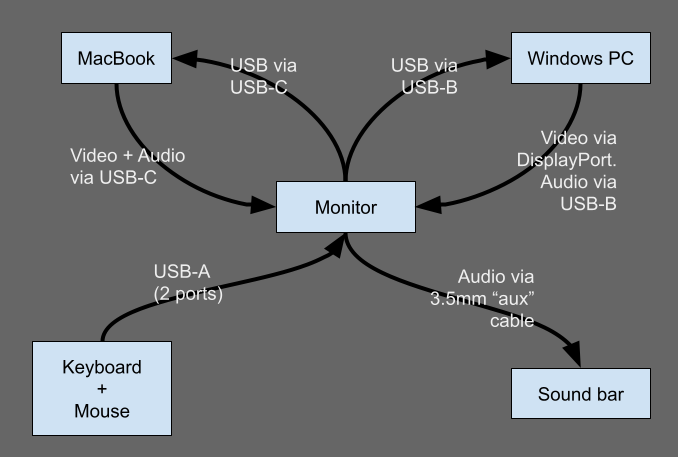 So I set out to identify a monitor that meets all of my criteria. Specifically:
Has a built-in KVM switch that lets me easily switch between my PC and MacBook.
Provides at least 60W power over USB-C (the bare minimum to power a 16-inch MacBook Pro).
Some sort of audio output (almost always analog).
Upstream USB-B Port so that I can plug my keyboard and mouse into the monitor and pipe PC audio through the monitor to the sound bar.
VESA mountable.
IPS panel. The viewing angles on my TN panel are so bad it interferes with my work so IPS is a must.
27" or 34" ultrawide @ 1440p. Good for gaming and happens to be the ideal non-retina DPI for macOS. Full retina @ 5k instead of 1440p would be nice, but unfortunately I couldn't find such a monitor that meets all the minimum criteria. Awkward DPIs are a deal-breaker due to scaling and "shimmering" effects mentioned in the linked post.
Nice-to-haves:
Adaptive sync (AS).
144hz refresh rate. At 60hz I lose track of my mouse cursor in League of Legends and we can't have that!
90W power delivery over USB-C.
Reasonable price.
Here's what I found after about 15 hours of research:
| Model | Size | Pros | Cons |
| --- | --- | --- | --- |
| ViewSonic VP2771 | 27" 1440p | $200-$450 | 60hz, 60W USB-C |
| LG 34WK95C-W | 34" 1440p UW | Adaptive Sync | 75hz, 60W USB-C, ~$1,000 |
| Dell U3421WE | 34" 1440p UW | 90W USB-C | 60hz, ~$1,000 |
| LG 34WK95U | 34" 4k UW | 85W USB-C | 60hz, ~$1,300, awkward DPI |
| Dell U3219Q | 32" 4k | 90W USB-C | 60hz, ~$800, awkward DPI |
| BenQ PD3220U | 32" 4k | 85W USB-C | 60hz, ~$1,200, awkward DPI |
| Razer Raptor 27 | 27" 1440p | AS, 144hz, HDR | 15W USB-C, No VESA mount, $700 |
| Philips 346B1C | 34" 1440p UW | 90W, AS, $450 | 100hz, VA panel |
| Acer Predator X34 S | 34" 1440p UW | 200hz, AS, 85W | Not available (yet) |
I can't guarantee this is an exhaustive list, but it might be. I left off monitors that are no longer for sale or lack crucial features like an audio output or upstream USB-B port.
As you can see, there's no ideal monitor except for the Acer Predator X34 S, which isn't available in the US yet and currently costs ¥9999 (roughly $1,500 USD). There's a similar model with a lower refresh rate, the X34 GS, however I can only find it for sale in Australia for approximately $1,342 USD. In terms of what's available today, you ultimately need to choose whether you want to sacrifice refresh rate, VESA mounting, USB-C charging, or panel type.
As luck would have it, I ended up snagging a ViewSonic VP2771 on eBay for $200 shipped. After all, I still have a 144hz TN panel that I can keep plugged into the gaming PC. It's not ideal but it'll work until I get my hands on that Acer.
Let me know in the comments if you find a monitor that should be in this list. If you want to play League of Legends together you can find me under the summoner name JamesJonesJrJr.
Stay safe out there, friends.
Thanks for reading. Feel free to leave a comment.